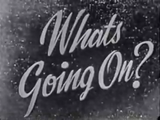 Aired
ABC Primetime Sunday, November 28, 1954 – Sunday, December 26, 1954
Run time
30 Minutes
Host
Lee Bowman
Announcer
Jimmy Blaine
Origination
Elysee Theater, New York City, New York
What's Going On? was a short-lived guessing game show. 
Game format
Edit
The six panelists were divided into two groups: the in's, who remained in the studio, and the out's, who went outside. The in's had to guess what the out's were doing.
Personnel
Edit
Panelists
Edit
Regular Panelists were:
Merchandise
Edit
Episode Status
Edit
The first four episodes exist and have been aired on GSN in the past. The status of the fifth and final episode is unknown.
See also: What's Going On?/Episode Guide