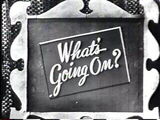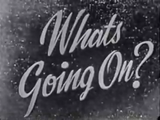 Aired
ABC Primetime Sunday, November 28, 1954 – Sunday, December 26, 1954
Number of episodes
5
Run time
30 Minutes
Host
Lee Bowman
Announcer
Jimmy Blaine
Origination
Elysee Theater, New York City, New York
What's Going On? (not to be confused with the classic R&B song from 1971 by the late Marvin Gaye of the same name) was a short-lived guessing game show where three of the celebrities would be sent to either record film of an activity or to participate in a live remote documenting or doing an activity. 
The six panelists were divided into two groups of three people: the in's, who remained in the studio and the out's, who went outside. The in's had to guess what the out's were doing.
Regular Panelists were:
No Merchandise
The first four episodes exist and have been aired on GSN in the past. The status of the fifth and final episode is unknown. An episode of this show has aired on Buzzr as part of their annual Lost & Found Week on September 27, 2020
See also: What's Going On?/Episode Guide
Community content is available under
CC-BY-SA
unless otherwise noted.