Jurassic World: Dominion Dominates Fandom Wikis - The Loop
Play Sound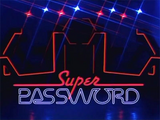 Aired
NBC Daytime: September 24, 1984 - March 24, 1989
Number of episodes
1,151
Run time
30 Minutes
Host
Bert Convy
Announcers
Rich Jeffries (September 24, 1984 - May 3, 1985)
Gene Wood (November 26, 1984 - March 24, 1989)
Origination
NBC Studio 3, Burbank, California
This is chronicling the 1984-89 revival of Password titled Super Password. Super Password was played the same way as its predecessor, Password Plus, but with some added changes added to the game (see below).  
Game format
[
]
Main Game
[
]
As mentioned above, Super Password was played the same way as Password Plus with two celebrity-contestant teams competing against each other to solve a series of "Password Puzzles", and to get the clues to those puzzles, they had to play traditional Password. Each game consisted of up of four puzzles, and each one was worth a different amount of money: the first puzzle was worth $100, the second puzzle was worth $200, the third puzzle was worth $300, and the fourth and final puzzle (if the game ever got that far) was worth $400. The first team to score $500 or more won the game and the right to play the Super Password round for a cash jackpot (see below), the most a team could score during the game was $800.
Just like on Password Plus, the task of cluegiver alternated during each puzzle. For the first and third puzzles, the celebrities gave the clues, and then the contestants gave the clues for the second and fourth puzzles. Two clues still were allowed per team in alternating order. However, the pass/play option and no direct opposites rule did not exist here; the team that got the previous password right got the first crack at the next one.
The Password Puzzles were still the same as they were on Password Plus: each puzzle consisted of five passwords leading up to the identity of a person, place, or thing. Still, nobody got to solve the puzzle if a password was not correctly guessed. However, what happened now was that if both members of one team could not solve a puzzle after the fifth password had been guessed, then the opposing team got a chance to solve it, and if they couldn't solve it, then the solution was revealed, the puzzle was thrown out, and a new one was played in its place (puzzles were still also thrown out if the solution was inadvertently revealed during the game).
Cashword (Ca$hword)
[
]
Whichever team solved the $200 puzzle got to play the "Cashword" (stylized as "Ca$hword"). Here, the celebrity had three chances to describe a significantly difficult password to their contestant partner, which was hidden inside a special prop called the "Magic Toaster." The celebrity was allowed five seconds to give each clue respectively, and if their contestant partner guessed the word, he/she won a cash jackpot that started at $1,000 and increased by that much each day that the Cashword was not won (the highest Cashword ever won was $12,000). If the celebrity gave an illegal clue at any time, the Cashword was immediately over.
After the Cashword came the "crossover" where the contestants switched celebrity partners, à la Password and Password Plus.
Super Password
[
]
Super Password (informally referred to as the "End Game") was played the same way as Password Plus's Alphabetics, in which the celebrity of the winning team had 60 seconds to describe ten alphabetically arranged passwords to their contestant partner using one-word clues at $100 a word. Similar to Alphabetics during Password Plus's final months on the air, Super Password was also played for a cash jackpot starting at $5,000 and increasing by that much each time Super Password was not won (unlike Password Plus's Alphabetics, there was no limit to how high the Super Password jackpot could go; the highest jackpot ever won there was $55,000). Celebrities viewed each password on a television monitor behind their contestant partner's head, and in turn, a stagehand situated off-camera held up large cards with each initial password letter several feet behind the celebrity so that the contestant could keep track of which letter password they were on. However, if a celebrity gave an illegal clue at any time, the word in play was thrown out and the current jackpot was forfeited, but their contestant still got $100 for each word they got right (if an illegal clue was given on any word except the last one and there was still time left on the clock, then Super Password still continued at $100 a word).
Contestants remained on the show until they were defeated or until they won five games in a row, whichever came first; if a contestant won five games in a row, he/she was retired as an undefeated champion.
Personnel
[
]
Broadcast History
[
]
September 24, 1984 - March 24, 1989 (NBC Daytime, Weekdays at Noon ET/11:00 AM CT/MT/PT-10:00 AM MT most markets)
Trivia
[
]
Before she became a card dealer on Card Sharks in 1986. Suzanna Williams was a contestant on Super Password (known as Suzie at the time) in October 1984 during the show's second week; unfortunately, she lost to then-reigning champion Julie Segovia in a shutout (600- 0 ).
The format from the main game would be later used for the unsold pilot On a Roll hosted by David Sparks in 1986.
A computerized variant of the "A Mark Goodson Production" logo where it flies out of view with the sound of a jet was also used for the end credits of the unsold pilot Oddball in 1986 and To Tell the Truth in 1990.
Starting on October 20, 1986, the famous phrase "The password is..." was reinstated (it hadn't been in use since the start of the All-Star version of Password in 1974). This version also revived the "last chance to guess" rule whenever a guesser gave a form of the word.
Both Super Password and Sale of the Century were cancelled on March 24, 1989 to make room for a new half-hour soap opera titled Generations, which premiered on the following Monday (March 27, 1989), and was touted as daytime's first racially integrated soap opera. It ended a year and ten months later on January 25, 1991 due to low ratings.
This was Bert Convy's last (and final) network game show that he hosted.
At one time in January 1988, a con artist named Kerry Ketchum appeared on the show under an alias (Patrick Quinn). He won a total of $58,600 in cash over four days which included a record-tying $55,000 jackpot win in the Super Password round during his appearance. He was later found ineligible and faced a disqualification when an Alaskan viewer recognized him and he was consequently arrested.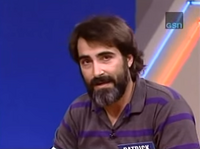 Merchandise
[
]
Main Article: Super Password/Merchandise
Photos
[
]
Main Article: Super Password/Photos
Episode Status
[
]
See Also: Super Password/Episode Guide
This series exists in its entirety, has aired on GSN at various times, and currently airs on Buzzr.
But on previous Game Show Network reruns, certain episodes of Super Password starring Bert Convy were excluded out due to celebrity clearance issues that were out of GSN's control.
Links
[
]
Super Password @ Game Show Galaxy (via Internet Archive)
Super Password @ Jay Anton
Super Password @ BertConvy.net (via Internet Archive)
A blog about Super Password @ Best of the 80s
See Also
[
]
Password
Password (1971)
Password Plus
Password (1997 proposed revival)
Million Dollar Password
Subconscious Password
Password (Buzzr)
Password (2016 proposed revival)
Password (2022)
Video
[
]