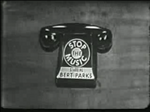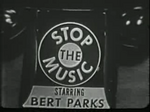 Aired
ABC Primetime, May 5, 1949 - April 24, 1952
ABC Primetime, September 7, 1954 - May 31, 1955
ABC Primetime, September 15, 1955 - June 14, 1956
Run time
60 Minues (1949-1952), 30 Minutes (1954-1956)
Host
Bert Parks
Announcer
Don Hancock, Dennis James, Kenny Williams, Sidney Smith, Paul Luther, Jack Haskell, Jimmy Blaine
Origination
Ritz Theatre, New York City, New York
Stop the Music was a musical game show that was based on a radio game show of the same name. The show was produced by Louis G. Cowan Productions in association with Mark Goodson Productions.
Game Format
[
]
Similar to the later Name That Tune on NBC and then CBS, Stop the Music had players identify songs. After a song was played, a home viewer would be called and could win a prize by correctly naming the song. A correct guess won a prize and a chance to identify a short clip from the Mystery Melody for more prizes. If the viewer missed the first song, the viewer received a gift from the sponsor and members of the audience would be asked to identify the song. Among the vocalists and stars who appeared on Stop the Music were Jaye P. Morgan, Jimmy Blaine, June Valli, Broadway dancer Wayne Lamb, Estelle Loring, and Ann Sheridan.
Personnel
[
]
1949-1952 version
[
]
Host: Bert Parks
Announcers: Don Hancock, Dennis James, Kenny Williams, Sidney Smith, Paul Luther, Jack Haskell
Producers: Mark Goodson, Alfred Hollander, Don Appell, Sherman Marks, Charles Henderson
Directors: Robert Doyle, Ralph Warren, Marshall Diskin, Eddie Nugent
Choreography: Tony Charmoli
Set Designers: William Lilling, Charles Hawkins, Jim McNaughton, Robert Bright
Music Director: Harry Salter
1954-1956 version
[
]
Trivia
[
]
International Versions
[
]
Merchandise
[
]
Photos
[
]
Screen Caps
[
]
Screen caps from an episode from 1955.
Episode Status
[
]
Video
[
]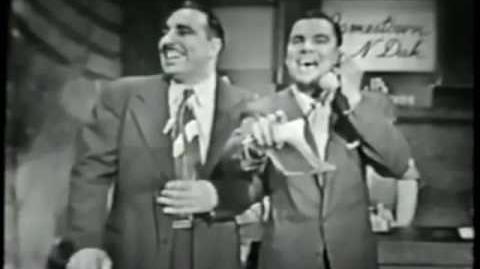 See Also
[
]
Links
[
]