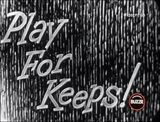 Taped
November 18, 1955, presumably in New York City
Run time
30 Minutes
Host
Sonny Fox
Announcer
Bern Bennett
Play for Keeps was an unsold pilot which may be considered as a "souped-up" version of Winner Take All.
Two contestants used lock out devices, one denoted by a bell and the other by a buzzer, to answer questions. This time, however, the stakes are a little bit higher. The champion chose from one to ten categories (including the misspelled "World Capitols") as the champion also then wagered part of their earnings from their accumulation in previous games and faced off in a best of five question game. If the champion won, then he or she won the money from the house equal to their wager. However, if they lost, then their wager was given to the new player while the old champion left with whatever money they have earned (minus the wager).
The pilot has aired on Buzzr during their "Lost & Found" week on September 7, 2015 and again on September 13, 2017.