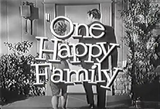 Genre
Sitcom
Aired
January 13-June 23, 1961 on NBC
Run time
30 Minutes
Starring
Dick Sargent (as Dick Cooper)
Jody Warner (as Penny Cooper)
Chick Chandler (as Barney Hogan)
Elisabeth Fraser (as Mildred Hogan)
Jack Kirkwood (as Charley Hackett)
Cheerio Meredith (as Lovey Hackett)
Willard Waterman (as Mr. Douglas [two episodes])
Maurice Gosfield (as Fred [one episode])
James Komack (as Perkins [one episode])
George Tobais (as Mr. Kendall [one episode])
One Happy Family (or "One Happy Family") was a short-lived sitcom where newlyweds Dick and Penny Cooper live with her parents ("The Hogans") along with her grandparents ("The Hacketts").
Unable to afford a place of their own, a meteorologist named Dick Cooper and his new bride Penny decided to move in with her parents named Barney and Mildred Hogan and grandparents named Charley and Lovey Hackett.
"Dick with pride carries Penny right inside on the house, the house is one happy family.
They reside with the parents of the bride, Mil and Barney are as humble they can be.
Charley and Lovey add their helpful touch, there always their to do there share but then they help too much.
So there's bound to be times when they all disagree but it all adds up to one happy family."
The series has been aired on the digital channel Decades in the past.
Main Article: One Happy Family/Episode Guide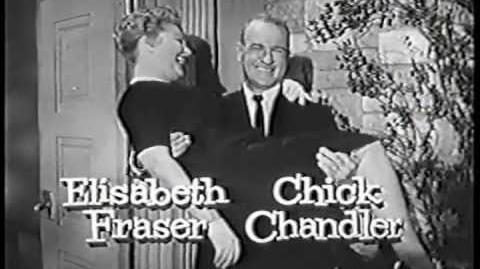 Community content is available under
CC-BY-SA
unless otherwise noted.