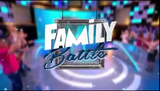 Aired
C8 (2017)
Host
Cyril Hanouna (September 22-November 10, 2017)
Benjamin Castaldi (November 24, 2017)
Game Format
[
]
After four questions, the last question being worth triple points, the highest-scoring family won €1,500 and played La Finale (The Final) in which the time limits were 20 and 25 seconds respectively and 200 points won €4,000 for one top answer, €6,000 for two, €8,000 for three, €12,000 for four, or €25,000 for all five top answers.
Merchandise
[
]
No Merchandise
Photos
[
]
Set Pics
[
]
Promo Card
[
]
Trivia
[
]
This version airs as a part of a daily talk show called Touche Pas a Mon Poste (Do Not Touch My TV also abbreviated as "TPMP") for which Hanouna also host.
A remix of the theme from Une Famille en Or (1990-1999) version is used as the theme for this show.
The network itself was originally called D8 from 2012 until 2016.
Prior to this version (and completely unrelated), a 1998 episode of the WB sitcom The Wayans Bros. had a game show spoof also called Family Battle hosted by Dick Ferndale (played by the late Fred Willard) in the episode called "All in the Family Feud".
Related Shows
[
]
Une Famille en or
Des Copains en or
Videos
[
]